Outlaw Half: Holkham
Sign up at the Outlaw Half website
Get a sponsorship pack from us
Get set and go!
Get a charity place
Get a charity place for just £50 when you pledge to fundraise a minimum of £450. Or buy a place for £285 and fundraise as much as you can.
Request a sponsorship pack and join our team.
Now into the third year – the Outlaw Half Holkham
The Outlaw Half: Holkham is the newest addition to the amazing Outlaw series. This triathlon will take place in the stunning grounds of Holkham Hall, north Norfolk and will be one you won't want to miss out on. The distance is the same as the original in Nottingham, so get out your wetsuit, oil up your bike, lace up your trainers and enjoy the ride.
Take on a 1.2m Swim, 56m Bike and finish with a half marathon run to help fund our life-saving research.
Join our team of Outlaws and let's beat cancer sooner.
Race day information
Join us for this unique experience and why not bring some friends and family along for support.
Any questions? Click here to read our most frequently asked questions, which should provide you with all the information you need. Or, you can contact the Sports Team on 0300 123 5461.
Training plans and advice
We've teamed up with the experts to give you the very best training support and advice for your event.
Get a cheering pack
Our pack includes a banner, clapper boards, cheering sticks, balloons, tattoos and running sacks.
Practical fundraising help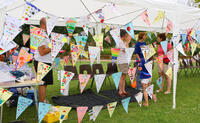 Get practical advice and useful tools such as planners and posters, to help you start fundraising.