Jurassic Coast Challenge
Request your sponsorship pack and join our team.
*2 FOR 1 OFFER*
Save 50% when you sign up in a pair between 26th December and 11th February (inclusive)
Walk it, jog it, or run it… but do the Jurassic Coast Challenge with Cancer Research UK!
This event offers the opportunity to walk, jog or run along the dramatically stunning Jurassic Coast. Step into the past when you experience this World Heritage Site and be part of an unforgettable challenge. With a free medal, T shirt and glass of bubbly at the finish line and free food, drink and massages on the way, this will be a weekend to remember. The famous and phenomenal views of Britain's coast will reward you on the distance that suits you, so prepare to have your breath taken away! 
Sign up with Cancer Research UK and you'll save 25% on the normal Registration Fee as we are an official Charity Partner of the event!
Join our team today and choose the distance that best suits you:
Full Challenge- £60 reg fee + £425 minimum fundraising
Half Challenge- £45 reg fee + £275 minimum fundraising
Quarter Challenge- £30 reg fee + £150 minimum fundraising
N.B. You'll need to have raised 50% of your sponsorship target 6 weeks before the event to confirm your place. But don't worry, we've got loads of fundraising tips and support to help you achieve this.
To find out more about the event please CLICK HERE for the official website
Race Day Information
Any questions? Click here to read our most frequently asked questions, which should provide you with all the information you need. Or, you can contact the Sports Team on 0300 123 5461.
Training plans and advice
We've teamed up with the experts to give you the very best training support and advice for your event.
Get a cheering pack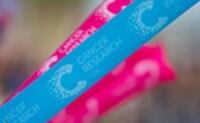 Our pack includes a banner, clapper boards, cheering sticks, balloons, tattoos and running sacks. To get yours, email supporter.services@cancer.org.uk or call 0300 123 5461.
Practical fundraising help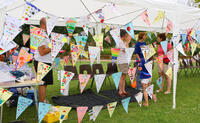 Get practical advice and useful tools such as planners and posters, to help you start fundraising.