Ikano Robin Hood Half Marathon
Sign up at the Robin Hood Half Marathon website
Get a sponsorship pack from us
Get set and go!
Get a charity place
Get a charity place for just £10 when you pledge to fundraise a minimum of £300 to help beat cancer sooner
Request your sponsorship pack and join our team.
Join our dedicated events team to support our participants on the day.
Join us at the flat and fast course of the 2018 Ikano Robin Hood Half Marathon.
Head down the tree-lined University Boulevard, around Highfields Lake and through the Trent building courtyard at the University of Nottingham, one of the most iconic buildings in Nottingham.
This course is flat and fast, so it's great for beginners and anyone looking to get a personal best.
One day we will find a cure for all cancers. Let's make it sooner.
Race day information
Any questions? Click here to read our most frequently asked questions, which should provide you with all the information you need. Or, you can contact 0300 123 5461.
Training plans and advice
We've teamed up with the experts to give you the very best training support and advice for your event.
Get a cheering pack
Our pack includes a banner, clapper boards, cheering sticks, balloons, tattoos and running sacks.
Get help with your fundraising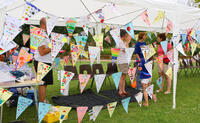 Get practical advice and useful tools such as planners and posters, to help you start fundraising.