On the night
What to bring
Walking number, t-shirt and back sign - your emergency details filled out on the back. If you haven't received your pack within a month of signing up, please email shine@cancer.org.uk
Safety pins - to attach your walking number
Supportive walking shoes - appropriate for long distances, that you've already trained in  
Breathable/waterproof clothing – layers are best as it can get cold overnight
Accessories and neon face paint - light, bright colours that glow in the dark. Light up your city. It's your time to Shine! 
Bottle of water - so you can stay hydrated. 
Plasters - just in case
Fully charged mobile phone – you can use it to let your friends know how you're doing using #ShineWalk
Money – they'll be lots of merchandise and refreshments for you to buy on the night

 
Prepare to see your city in a different light
Get ready for an amazing Shine Night Walk. Here are some easy ways to make your night an unforgettable experience.
Don't get stranded
Please aim to arrive at your Event one hour before your start time. Make sure you plan in advance, especially as you'll be travelling at night. We've created this handy journey planner for Shine London for extra advice.
Volunteer at Shine Night Walk
The success of the event is down to so many people, and without amazing volunteers like you, it wouldn't be possible.
If you fancy handing out medals, cheering people on, helping out at venues, or cycling the route to help out participants, then there's a role for you.
Photos on the night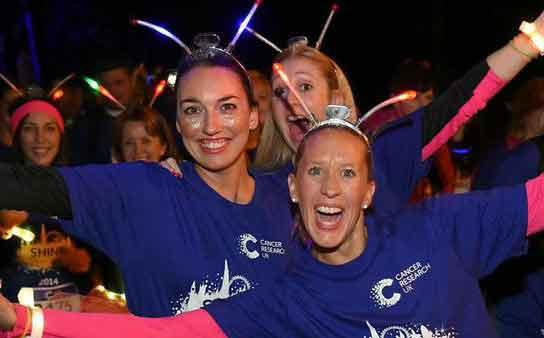 Our photography partner, SportCam, will be taking photos of you along the route and at the finish line. If you're snapped on the night, make sure you take a look at the SportCam website to find and buy your photos.
They will be available a couple of days after Shine Night Walk and we'll let you know as soon as they're available for you to view and buy.
If you do not wish your photograph to be taken, please tell the photographer on the night.
What to expect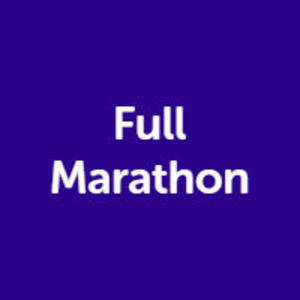 How far is a marathon?
A full marathon is 26.2 miles or about 42 kilometres. That's roughly the same as walking around a football pitch 121 times. It's a challenge, but we know you can do it if you prepare in advance.
Power walker - Less than 9 hours
Strider - Less than 11 hours
Stroller - Less than 14 hours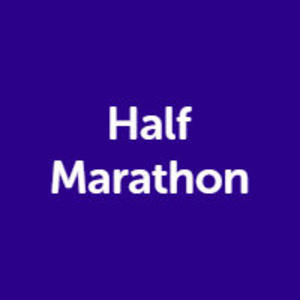 How far is a half marathon?
A half marathon is 13.1 miles or about 21 kilometres. That's like walking almost 50 times around the circumference of the London Eye
Power walker - Less than 4.5 hours
Strider - Less than 5.5 hours
Stroller - Less than 7 hours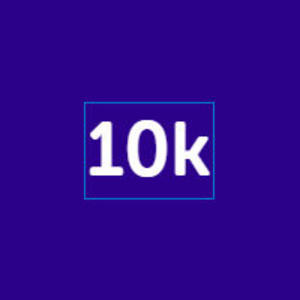 How far is a 10K?
A 10k is just over 6 miles. That's roughly the same as walking around a football pitch nearly 29 times. It's a challenge, but we know you can do it if you prepare in advance.
Power walker - Less than 1.5 hours
Strider - Less than 2 hours
Stroller - Less than 3 hours
6 night walking tips
Think about your feet
Perhaps the most important piece of kit you'll take with you. A comfy pair of walking boots will give you great ankle support, but if you're after something lighter a pair of hiking shoes are comfortable, and they're breathable too! Reliable footwear can be hard to find, but with one of our free in-store footwear one-to-ones, our experts can help you pick out the perfect pair.
Socks are our favourite secret weapons. A pair of hiking socks will help keep your feet dry, and the thick wool will help to prevent rubbing, sore spots and blisters. 
Stay hydrated
A full or half marathon is a long way so is a 10k, you're going to be working up a sweat, and you're going to get thirsty. You will receive water at pit stops along the route but it's a good idea to bring some as well. Some of us swear by a couple of water bottles stuck in the side pockets of a rucksack. Another favourite solution is to use a hydration system. These reservoirs slot into your rucksack with a tube that runs over your shoulder so you can take a sip of water without breaking pace. 
Layer Up
Autumn is a changeable season and your outfit needs to be able to cope with whatever the weather throws at you. The secret lies in the layering system: how each piece of clothing performs a specific function and they all work together to keep us comfy in any conditions. 
Start out with a baselayer. These next to skin layers are perfect for moving sweat away from your body. 
Add a midlayer for chilled Autumnal nights. Whether it's a fleece, jumper or favourite hoodie, adding a midlayer to your outfit and help keep the heat in.
Lastly, because this is the UK, bring a waterproof. Our lightweight breathable waterproofs keep the rain out but let water vapour from evaporating sweat pass through. These amazing jackets are great at keeping you comfortable in wet environments, especially if you're working up a sweat. Most of them pack down small too, perfect for taking along on all your adventures – just in case.  
Pack light 
A small 15-25 litre rucksack would be the perfect size for a few essentials, some water and a couple of snacks. With cunning features like hidden access for hydration systems and perfectly padded straps, a quality rucksack will last you for years and see you through a host of adventures. Choosing a pack with a ventilated back system will help your back dryer and the straps will reduce the strain on your shoulders. 
Accessorise
Our range of reflective buffs, gloves and hats will help to keep you warm, and all those reflective bits won't just look amazing they'll also help you be seen in the dark.
See and be seen
The Shine course is all well lit, but you might want to use a headtorch. These nifty devices leave both your hands free, helping you to move more efficiently, and there's always light where you're looking. Energy efficient, bright and lightweight, after a few minutes you won't even notice you're wearing one.