Berlin Marathon
The 2018 public entry ballot is open from 18th October to 8th November. Visit the Berlin Marathon website to enter.
Get a charity place
Get a discounted £100 charity place when you pledge to raise a minimum of £1000 to help beat cancer sooner.  
Request your sponsorship pack and join our team.
Join our team and take on 26.2 miles in the Berlin Marathon - it's flat, fast and attracts record-hunting runners each year.
Get your trainers at the ready, the Berlin Marathon is back! Experience the bustling atmosphere of Berlin as you run through the heart of the historic city. Take in cultural sights as the route takes you past iconic monuments such as the Reichstag and the Brandenburg Gate. Feel energised and supported the entire way as you run with over 40,000 runners!  
Want to beat your personal best? This course is right for you. Run your fastest in a speedy loop around Berlin that lends itself to record-breaking results.
You won't want to miss out on this memorable event so make sure to put the date in your diary!
Join our team and help us bring forward the day when all cancers are cured.
Race day information
Any questions? Click here to read our most frequently asked questions, which should provide you with all the information you need. Or, you can contact the Sports Team on 0300 123 5461.
Did you know...
Cancer Research UK helped to develop IMRT – a more targeted type of radiotherapy that reduces side effects. We supported the first ever trial of IMRT in breast cancer, and have funded trials in other cancers including prostate cancer, and head and neck cancers.
Training plans and advice
We've teamed up with the experts to give you the very best training support and advice for your event.
Get a cheering pack
Our pack includes a banner, clapper boards, cheering sticks, balloons, tattoos and running sacks.
Get help with your fundraising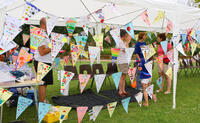 Get practical advice and useful tools such as planners and posters, to help you start fundraising.