Setting the Standard for plain cigarette packaging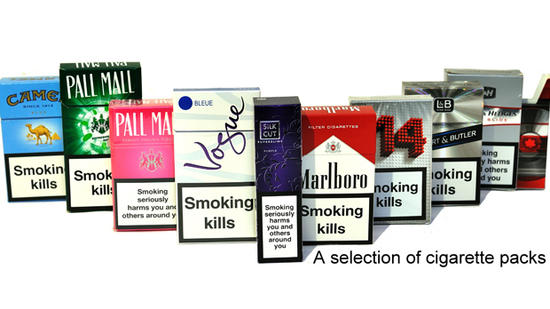 Take action
Watch and share our new video showing how far tobacco companies have gone to recruit young people as smokers.
Background
Every year the equivalent of 6,900 classrooms of 11-15 year olds start smoking in the UK. Addiction keeps them smoking into adulthood, where it then kills one in two long-term users.
Watch our new video showing how tobacco companies have gone as far as local laws allow to recruit young people as smokers.
No children were smoking in this film. Find out how we made this film.
Since tobacco advertising became illegal in the UK in 2002, tobacco companies have invested a fortune in branded packaging to attract new smokers. Most of these new smokers are children, with more than 80% starting by the age of 19.
Our evidence shows that removing all branding and design from the packs makes cigarettes less attractive for both adults and children. 
Support the campaign to protect children from tobacco marketing.
What are plain, standard packs?
Plain standardised packaging means all cigarette packs will look the same. They are packaged in a standard shape without branding, design or a logo:
Health warnings will remain
Brand names will be in standard type face, colour and size
The shape, colour and method of opening the packet will be standardised
The duty paid stamp will remain with covert markings that show the pack is not counterfeit
Cigarette packs are also standardised in size and colour
Standardised packaging would apply to all tobacco products including rolling tobacco and cigars.
Support for standard packs
In December 2012, Australia became the first country in the world to introduce standard packs for cigarettes. And New Zealand and the Republic of Ireland are set to follow.
In September 2013, the Scottish Government reaffirmed its support for standard cigarette packs and announced its plans to bring in new laws in 2014-15. 
In the UK, the campaign for standard packs has been supported by over 200,000 people – 80,000 of whom are Cancer Research UK supporters. According to a YouGov survey, 63% of UK adults support removing all branding from cigarette packs, with just 16% opposed (2012). In November 2013, the Government announced it's paving the way for new laws on standard packs, starting with an independent review that will look at the public health benefit of standard packs, especially for children. The outcome of the review is due in March 2014, when they will act on the findings. Meanwhile, they will also introduce laws so they can act quickly after the review if needed.
How you can help
Standard packs are needed, wanted and practical. We want Parliament to vote for standard packs, making tobacco marketing history in the UK, and there are two things you can do to help us achieve this:
Watch and share our shocking campaign video showing how tobacco companies have gone as far as local laws allow to recruit young people as smokers.
Email your MP a festive message, asking them to watch our new campaign film and support standard packs in 2014