CRUK-MEDI Alliance Laboratory
The Cancer Research UK–MedImmune Alliance Laboratory helps you translate your novel research into therapeutic and diagnostic antibodies.
The laboratory brings together CRUK's cancer biology expertise with the world-class antibody engineering technology of MedImmune, the global biologics research and development arm of AstraZeneca.
Scientists from both organisations work side by side in the joint laboratory in Cambridge, sharing knowledge and expertise to accelerate the discovery and development of novel biologics to treat and diagnose cancer.
Our mission
To maximise cancer patient benefit
To run a collaborative research laboratory
To actively engage the oncology research community
To partner closely with investigators
We invite researchers to apply to access this unique laboratory and expertise, to develop novel therapeutic and diagnostic antibodies. We are seeking promising new insights from novel biology through to well-validated targets, to underpin our discovery activities.
The laboratory provides researchers with a fantastic opportunity to:
turn your concept into a drug and bring benefit to cancer patients
secure resources and funding to conduct focused research on your target
be a key member of a multidisciplinary drug discovery team
gain insight and understanding of leading biotherapeutic drug discovery technologies
author on both research articles and patents
To find out more about the laboratory, take a look at our press release and blog post.
Governance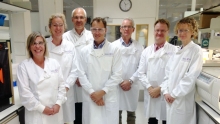 The lab is governed by a Joint Steering Committee comprising representatives from both CRUK and MedImmune.
From left to right: Maria Groves (Head of laboratory), Jane Osbourn (MedImmune), Keith Blundy (CRT), Iain Foulkes (CRUK), Nigel Blackburn (CRUK), Tristan Vaughan (MedImmune) and Sarah Holt (Deputy head of laboratory) at a recent meeting of the Joint Steering Committee.
Contact us
If you have any further questions about the laboratory or whether your project is eligible, please contact the team at AllianceLab@cancer.org.uk or speak to your Commercial Partnerships Business Manager.
Meet the team
Staff from the Lab will be exhibiting at the following events and conferences:
NCRI Conference, Liverpool, UK
6–9 November 2016
EORTC-NCI-AACR Symposium on Molecular Targets and Cancer Therapeutics, Munich, Germany
29 November–2 December 2016
Email us to arrange a meeting at one of these events.
Apply to access the laboratory
To access the laboratory you must complete a Target Notice Form.
We're driving discovery research in immuno-oncology which is leading to novel and exciting immunotherapeutic possibilities.
Celebrating the CRUK-MEDI Alliance Laboratory
As part of a series celebrating UK expertise in drug discovery and development, the UK BioIndustry Association visited the CRUK-MEDI Alliance Laboratory.