Our members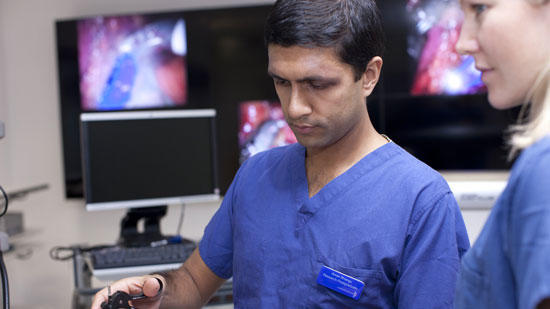 Cancer Research UK's constitution provides for the appointment of 100 Members of the charity. Members are similar to the shareholders of a company.
They are entitled to attend all general meetings of Cancer Research UK (including the AGM) and their most significant formal duty is the election of the Trustees. When Cancer Research UK was formed in 2002 the Trustees, who were the original 20 founding Members of the charity, appointed a further 60 Members, bringing the total to 80. View a list of the current 90 Members, including our Trustees.
Together the Members embody a broad range of relevant skills, experience and backgrounds, from business and the arts, politics, finance and health care. They are chosen not to represent particular fields, but as individuals who are supportive of the aims and objects of the charity.
Some of the Members were previously formally associated with the Cancer Research Campaign and the Imperial Cancer Research Fund and because they were enthusiastic in their support of the new charity were invited to maintain a connection with it.
Others were selected by the new Cancer Research UK Trustee body because of their interest in or knowledge of cancer research and associated health issues and because of their sympathy with the aims of the charity.
List of Members 
Dr Nighat Awan OBE
Ms Anne Baldock LLB Solicitor
Sir David Barnes CBE
Ms Wendy Becker BA MBA
Professor Sir John Bell FRS PMedSci
Lady Benson OBE JP DL
Professor Doctor Anton Berns
Professor Adrian Bird CBE FRS FRSE
Professor Colin C Bird CBE FRSE
Professor Sir Leszek Borysiewicz BSc MB BCh(Wales) PhD FRCP FMedSci
Ms Helen Calcraft BA MBA
Professor Sir Kenneth Calman KCB DL FRSE
Dr Philip H M Campbell BSc MSc PhD DSc FInstP FRAS
Professor Sir David C Carter MD FRCS(Ed) FRSE
Peter Chambré Esq.
Professor Tim J H Clark MD BSc FRCP FCGI
Professor Robert D Cohen CBE MD FRCP FMedSci
Sir David Cooksey GBE
Professor Suzanne Cory AC PhD FAA FRS
Dr Adrian Crellin MA FRCR FRCP
James Crosby Esq.
Professor Dame Sally Davies
Cyril Dennis MBE
David de Peyer Esq.
Sir John Egan DL
Mrs Carole Farrell MPhil MSc MA RGN
Lord Fink of Northwood
Professor the Rt Hon Baroness Finlay of Llandaff FRCP FRCGP
Dr Sue Foden MA DPhil
Roy WJ Foster FCA
Valentine Furniss Esq.
Professor Barry Furr OBE FMedSci FIBiol CBiol BSc MA(Cantab) PhD
Sir Roger Gibbs
Professor Peter Goodfellow DPhil FRS
Stephen Green Esq.
Richard Anthony Griffiths Esq.
Professor Sue Griffiths HDCR FCR BEd
Professor Keith Gull CBE FRS FMedSci
Mrs Colleen Harris MVO FRSA
Professor Sir Henry Harris Kt FRCP FRCPath FRS
Ms Liz Hewitt FCA BSc(Econ) FRSA
The Rt Hon Lord Jenkin of Roding Hon FRSE
Professor Jonathon K C Knowles
Dr Sir Ralph Kohn FMedSci Hon FRCP DSc(hc) FRAM FRS
Sir Alan Langlands FRSE Hon FMedSci
Dr Melanie G Lee CBE BSc DSc(Hon) FMedSci
Oscar M Lewisohn FSA FC IB
Lord Mackay of Clashfern Kt PC FRSE
Charmaine Mallinckrodt
Charles Manby Esq.
Professor Sir Alex Markham
Roger Matthews Esq.
Judith Mellor OBE
Mrs Stephanie Moore MBE
Professor Sir Peter Morris AC FRS FRCS
Professor Norman Nevin OBE BSc MD FFPH FRCPath FRCP(Edin) FRCP
Sir David K Newbigging OBE
Sir Gulam K Noon MBE
Sir Paul Nurse FRS
Dame Bridget Ogilvie AC DBE FRS
Dr Keith F Palmer
Lady Hayat Palumbo
Anthony H Percival FCA
Professor Sir Keith Peters FRCP FRS FMedSci
Timothy S D Pile Esq.
Sir Joseph Pilling KCB
Michael Pragnell Esq.
Professor Sir George Radda CBE FRS
Dr Carole Rawlinson
Miss Kate Reardon
Dr Andrew Richards CChem
Professor Sir Michael Richards CBE MD FRCP
Gerald M Ronson Esq.
Professor Dame Nancy J Rothwell DBE DSc FMedSci FIBiol FRS
Professor Peter Selby CBE FMedSci MD DSc
Lord Sheppard of Didgemere KCVO Kt
Sir John Skehel KB FRS PhD
Rob Smith CB
Dr Michael Soukop OBE FRCP
Mrs Leah J Sowden FCA CTA DChA
Sir Kenneth R Stowe GCB CVO MA Hon DSc(Med)
Clive Strowger OBE FCA
Professor Dame Jean O Thomas DBE ScD FRS FMedSci
Professor Jeffrey Tobias MD FRCP FRCR
Guy Weston Esq.
Sir Nigel Wicks GCB CVO CBE
Sir Andrew Witty
Professor the Lord Winston of Hammersmith FRCOG
Mrs Humphrey Wood MBE
Francis E Worsley OBE FCA
Get in touch
If you require further information or have any comments please get in touch.
020 7242 0200